This is a full day trip of hiking to the active volcano Mahawu or Lokon, combined with other highland tours. The tour will normally include the following:
Depart from the resort at around 7.00 am (or later)
Manado Bay view
A short stop at the highland point in Tomohon, where you can enjoy the view over Manado bay, Bunaken Island, Manado Tua, Bangka and other islands close by.
Traditional Market in Tomohon
One of the biggest traditional markets on the highland where you can find so called 'excotic meat' that the local people love to eat, fresh veggies, spices and flowers that grow in the highland.
Hiking active volcanoes (Lokon Volcano or Mahawu Volcano)
Lunch
Linow: Sulphur Lake
Woloan: Minahasan Traditional Wooden House Industry
Waruga: Ancient Stone Grave
Back to the resort at around 5.00 pm
Price: Minimum two people: IDR 995.000/person. Single: IDR 1.485.000
Includes: boat transfer, car + driver, drinking water, soft drinks, entrance fee, English speaking guide, and lunch at a restaurant in Tomohon.
What to wear/bring: Long sleeves, long pants, proper trekking shoes (or at least sneakers), a hat, sunblock, mosquito repellent (use before entering the forest) and an extra shirt.
MAHAWU VOLCANO (1324 M)
The trip to Mahawu volcano takes about 90 minutes by boat & car from the resort. There is a road that allows the car to go closer to the top of the volcano. From there it's only a 15 minute hike to the top, and another 20 minutes to walk halfway around the crater lake, to the highest peak. From here you have a spectacular view over the caldera with the steaming and bubbling crater lake with sulphur scent. You can also see the whole of North Sulawesi from the top of the volcano: Manado bay and neighbouring islands, the Lokon-Empung volcano, Soputan volcano and Mount Klabat (2000 m) – the highest mountain in North Sulawesi.
ABOUT MAHAWU VOLCANO
The elongated Mahawu volcano lies immediately east of the Lokon-Empung volcano. It is the northernmost of a series of young volcanoes along a SSW-NNE line near the margin of the Quaternary Tondano caldera. Mahawu is capped by a 180-m-wide, 140-m-deep crater that contains a small crater lake, and has two pyroclastic cones on its northern flank. Less active than its neighbor, Lokon-Empung, Mahawu's historical activity has been restricted to occasional small explosive eruptions recorded since 1789. In 1994, fumaroles, mudpots, and small geysers were observed along the shores of the greenish-colored crater lake.
Source: www.volcanodiscovery.com
LOKON VOLCANO (1580 M)
The trip to this volcano also takes about 90 minutes by boat & car from the resort, but it's a 3 hour hike and the terrain is a bit more challenging. We hike to Tompaluan, the active crater on the saddle between the two peaks of Lokon-Empung. You will need a proper trekking shoes for this hike, as the igneous rock trail formed by cooled lava can be slippery (even when dry).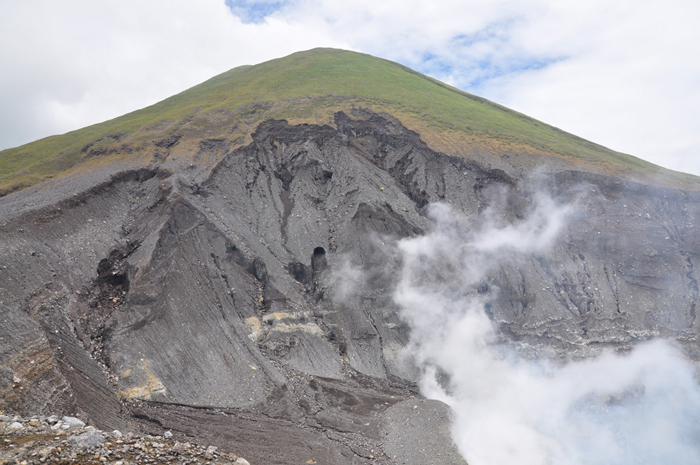 ABOUT LOKON VOLCANO
The twin volcanoes Lokon and Empung, rising about 800 m above the plain of Tondano, are among the most active volcanoes of Sulawesi.
Lokon, the higher of the two peaks (whose summits are only 2.2 km apart), has a flat, craterless top. The younger Empung volcano has a 400-m-wide, 150-m-deep crater that erupted last in the 18th century. All subsequent eruptions have originated from Tompaluan, a 150 x 250 m wide double crater situated in the saddle between the two peaks.
Historical eruptions have primarily produced small to moderate ash plumes that have occasionally damaged croplands and houses, but lava-dome growth and pyroclastic flows have also occurred. The last big explosive eruption was in July 2011.
Source: www.volcanodiscovery.com
TREKKING TANGKOKO NATIONAL PARK & HIKING VOLCANOS LOKON or MAHAWU
If you want to combine this two different tours, you will then leave the resort at around 5.00-5.30 am to Tangkoko National park (we will pack your breakfast – such as a sandwich, pancakes, banana). You will reach the park at around 6.00 – 7.00 am and do the 3 hours trek.
You will then head to Tomohon highland for lunch in Gardenia resort. After the lunch break you will then start hiking either Lokon volcano (3 hours, 2 ways) or Mahawau volcano (90 minutes, 2 ways). On the way back to the resort, you can also visit the pottery village Pulutan, and the ancient Waruga sarcophagus. You will be back at the resort in time for dinner.
Price: € 79,- /person (minimum 2 person). Single: € 119,-
Includes: Boat transfer, car + driver, drinking water, soft drinks, entrance fee, English speaking guide, and lunch at Gardenia restaurant in Tomohon (ordered by us). Additional orders, fruit juice, beers, etc are not included.