All our dive guides made at least 500 dives in Lembeh Strait. Some of them even logged more than 6,000 dives here in Lembeh Strait. They know all the sites and their inhabitants very well. They will give you all the time you need, to discover, observe and photograph the weird beauty of Lembeh Strait and they are all happy to show you the critters that you otherwise maybe would have missed. Experience the best of Lembeh Strait in the best way, with us.
All members of our staff have been trained at the resort. They consider you to be their own personal guest and will welcome you warmly. For a maximum number of 14 guests, we have more than 40 employees.
Rob Sinke, born in the Netherlands, but proud Indonesian citizen and PADI master instructor and Linda Sinke-Mangimbulude own and manage Divers Lodge Lembeh, Weda Resort and Magic Bay Rao. And they are founders of the Sawai Ecotourism foundation which built and operate 4 Kindergarten schools, an education center for adults and several conservation projects.
SINKE FAMILY: Linda, Adrian, Indah and Rob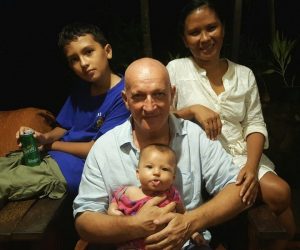 OUR PETS
We have two friendly dogs named Papa Doggy & Baby Doggy. The dogs are always guarding around the resort, playing on the beach or even guiding guests to their bungalows :)). Our "wild pets" that we keep in their natural environment around the resort are: Tarsius – the smallest primates, monitor lizards, many birds, butterflies and many more.
Our mascotte and close family member Manis the black macaque monkey, lives in the Tasikoki Wildlife center and is at the moment placed among a group of her own kind as an Alpha female. She now has 2 children. The centre is working on a program to release them back in nature.