Divers Lodge Lembeh stands as a premier destination for experienced divers seeking to explore the unique underwater environment of Lembeh Strait. Our lodge, strategically located in the heart of this globally recognized diving locale, offers unparalleled access to the Strait's diverse marine life. When it comes to understanding and navigating Lembeh, Divers Lodge Lembeh brings years of expertise and a commitment to providing a high-quality diving experience.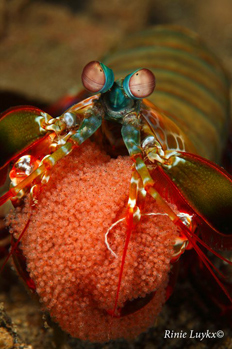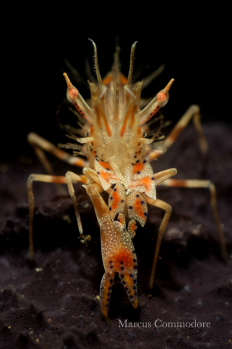 Its reputation as the best place for muck/critter diving in the world may give a false impression because Lembeh has much more to offer, such as beautiful coral gardens, walls and shipwrecks. You can dive Lembeh Strait all year round. The water temperature is around 27-29 Celsius with coldest months around July – August when it can drop down to 26 Celsius. A 3 mm full suit is good enough but we would suggest 5 mm full suit especially if you are a photographer or are sensitive to cold.
CRITTER DIVE SITES IN LEMBEH
A typical dive site of Lembeh Strait is often sandy bottom (rich black volcanic sand or white sand) with small patches of rubble, sponges and reef; and there is almost no current. The underwater world is full of rare and extraordinary marine organisms that will surprise you, and that you may not have seen in other places.
Lembeh Strait is a real heaven for underwater macro photographers. When you see a picture of a pygmy seahorse, a hairy frogfish, a delicate Flamboyant cuttlefish, a ghost pipefish or a mimic octopus, it's likely that the picture was taken at only one of Lembeh's fifty dive sites. Our policy of 2 divers per guide (or 1 diver per guide) will surely benefit both photographers and non-photographers. Even as shallow as 2-3 meters our well trained dive guides will show you various interesting critters but mostly you will dive at depths between 14 and 22 meters. The maximum depth is often around 22-26 meters. As you will probably do long dives (we do not have dive time limits) using Nitrox is a good choice, especially if you take photos.
On nightdives you will see different critters and different behaviours like hunting or mating. They are often the most spectacular dives here, so don't miss night dives in Lembeh Strait!
Critter dive sites in Lembeh: Teluk Kembahu, Pantai Parigi, Jahir, Rojos, Air Bajo, Air Prang, Batu Lubang, Police Pier, Hairball and many more. Our housereef is also great for nightdives and dusk dives (especially for Mandarinfish who mate at dusk).
CORAL REEF DIVE SITES IN LEMBEH
Yes, Lembeh also has beautiful coral reefs with crystal clear water, big gorgonians (sea fans), walls, sponges and many reef fish. Occasionally we also see large fish such as whitetip/black tip Shark, Napoleon wrasse, Tuna, schooling Baracuda, schooling jacks, turtles and eagle rays.
Coral dive sites in Lembeh Strait: California Dreaming, Angel's Window (pinnacle with a small cave of swim-through), Pulau Makawidey, Nudi Retreat, Magic Rock, Batu Merah, Batu Kapal (at North tip of Lembeh island, rarely dive here due to very strong currents) and a few others.
The east side of Lembeh Island, just a 10-minute journey from Divers Lodge Lembeh, is an exceptional location for coral dive sites. This largely unexplored area offers a unique diving experience due to its secluded location and distance from other resorts. You can dedicate an entire day to diving here, with a break for a picnic on the stunning white beach of Pulau Dua, a small island boasting two dive sites, and Jiko on the Lembeh side.
Please note that these dive sites are accessible only from October to April. From May to September, strong south winds may prevent us from diving on the east side, though the Strait remains unaffected by any wind direction.
WRECK DIVING IN LEMBEH
Lembeh Strait offers you the opportunity to dive interesting shipwrecks, overgrown with beautiful corals and resting at comfortable depths of 14 to 30 meters.
Mawali Wreck
The Mawali wreck is the most commonly dived wreck in the Strait. This Japanese freighter from WWII is lying on its portside and has a length of 90 meters. You will descend and ascend mooring line and you will find the wreck body starting at around 14 meters depth down to 30 meters. The wreck is still complete – with propeller, beams, bridge and engines. The melted glasses we found in the kitchen shows that the ship burned before she sunk. This may explain the huge hard corals that are growing on the wreck. The cargo holds are safe to visit, but the machine room is unstable and should be avoided.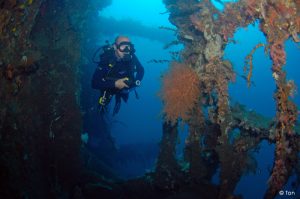 The topside of the wreck acts as a very nice artificial reef overgrown with beautiful corals, many nudibranchs, critters, schooling baracudas and reef fish so it is still very attractive even for divers who are not particularly interested in wrecks, or do not want to get inside the wreck.
Divers need to be careful when ascending as large ships or small boats may pass very close to the wreck. We can also get some current here, so for your comfort it is better to wear hand gloves at least on one hand to hold on to the line while descending and ascending.
MANDARIN FISH ON OUR HOUSEREEF and much more
Dives on our 4 hectares big housereef are getting better and better! Since 2007 fishing is strictly forbidden and apart from the famous Mandarin fish more and more species make it their home. We have seen Blue Ringed Octopus, Wonderpus, Hairy Squat Lobster, Tiger Shrimp, Hairy Octopus, Ghost Pipefish and many more interesting critters! Dive depth 2-30 m.
Updated July 29 2023